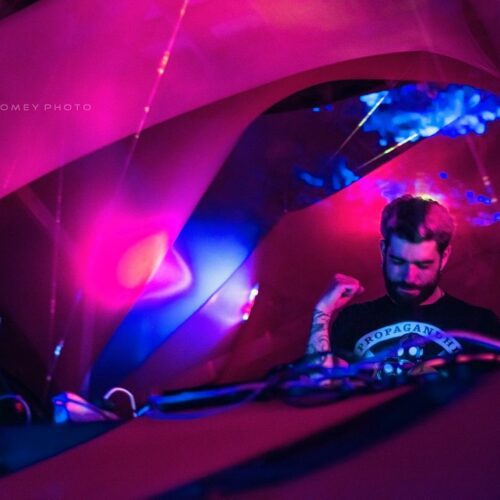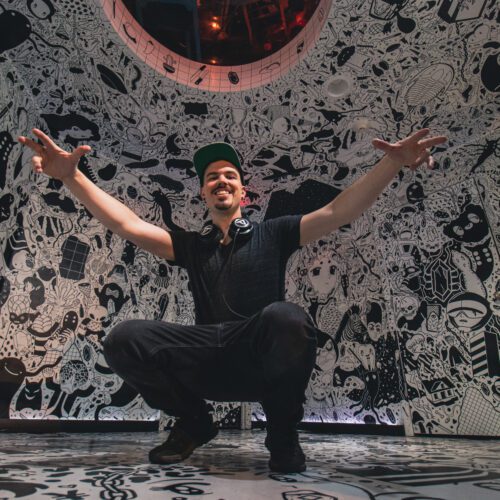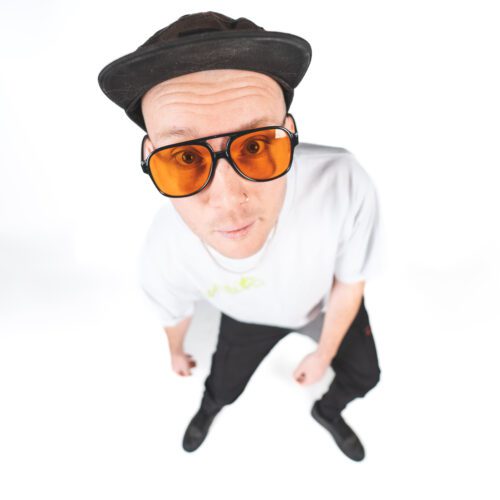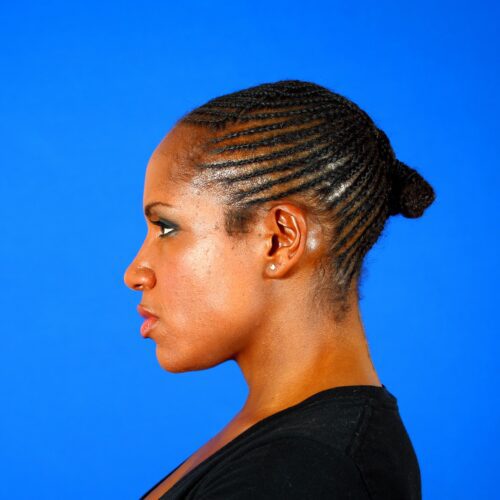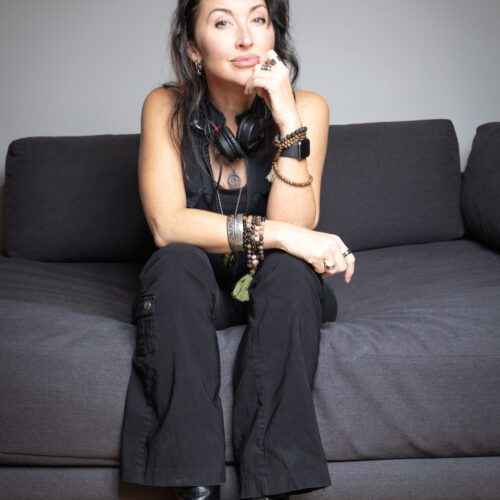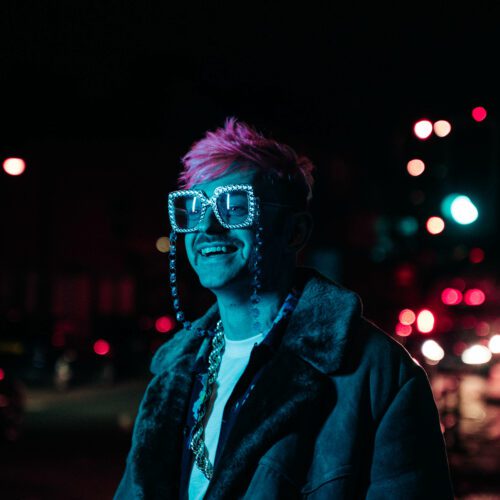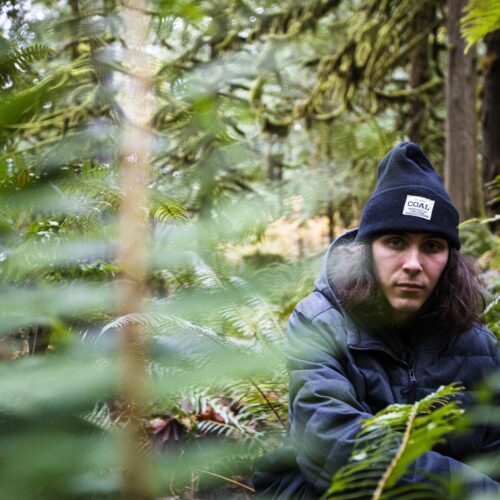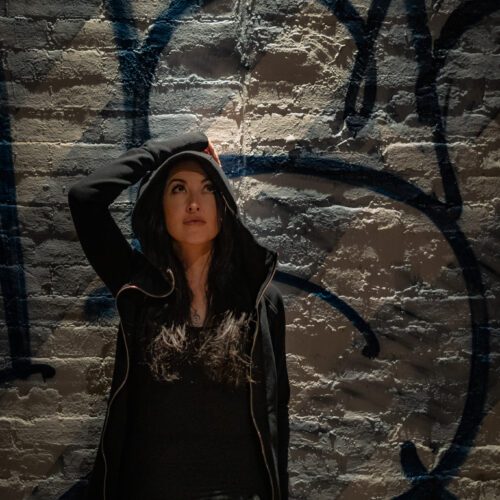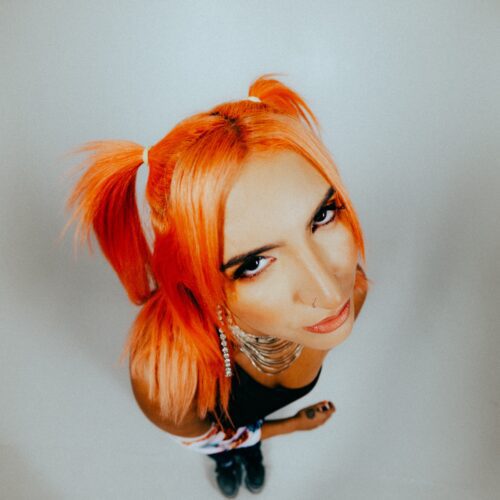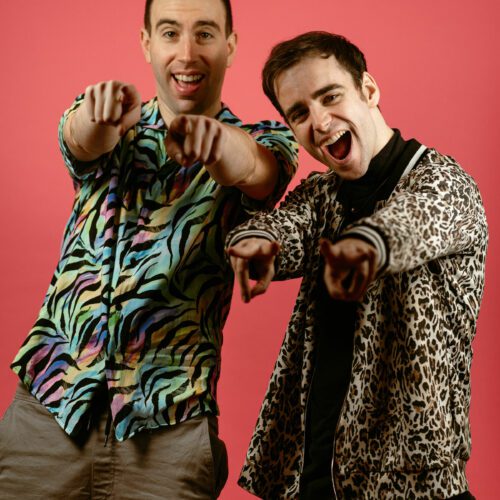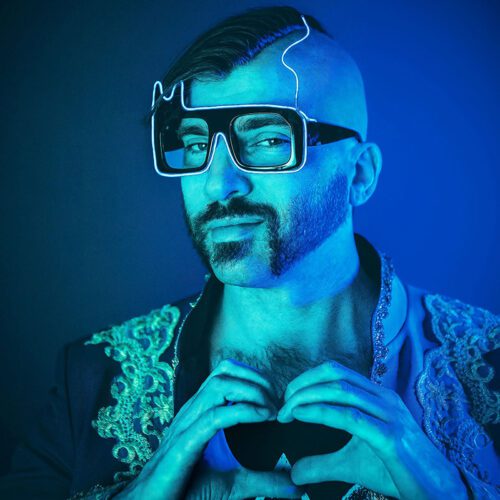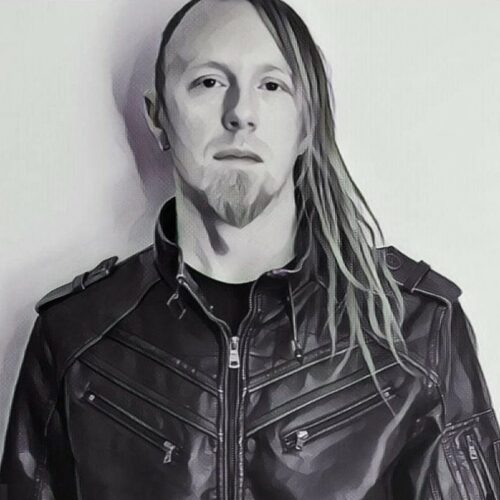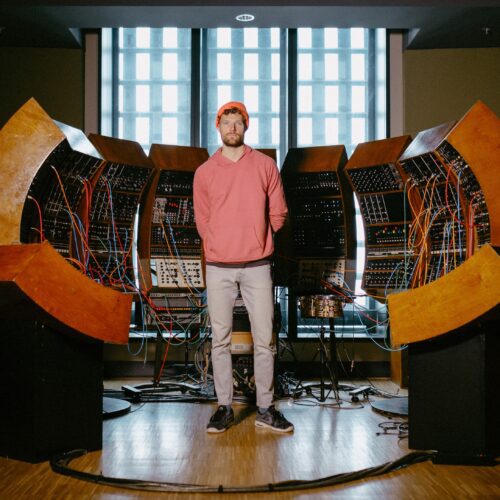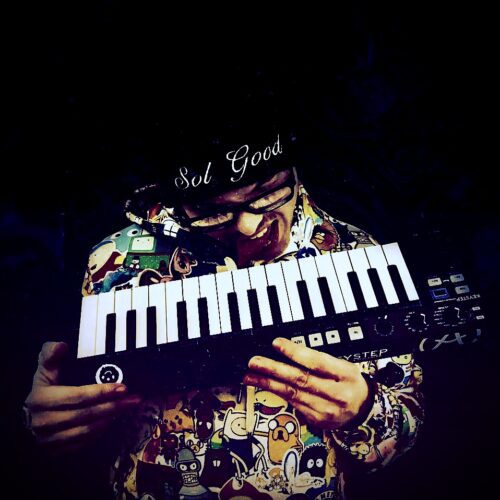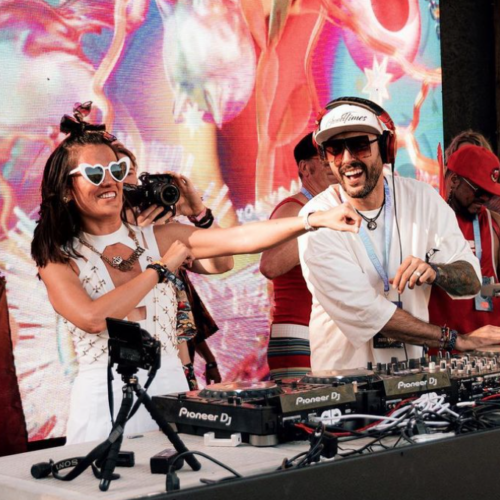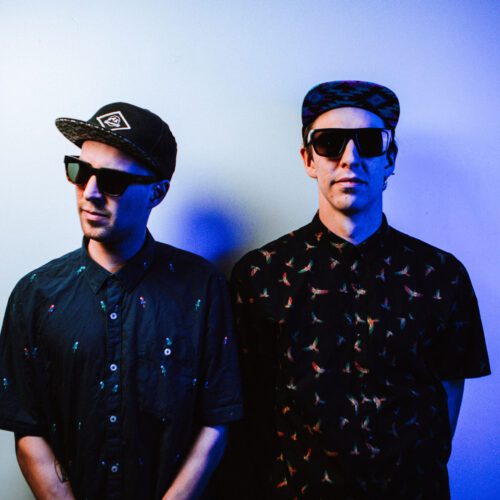 Downtempo,World Bass,Psy-Bass
Jeremy's Aura
Playful downtempo and ambient exploration with a progressive rock twist. nJeremy's Aura represents but one of the musical directions of Jeremy Costa, a Montreal-born multidisciplinary artist. Jeremy's music playfully shifts from atmospheric ambient and soothing downtempo into progressive mid-temp psychedelic environments and back again; always moderating experimentalism with a strong sense of musicality. Combining his passion for both live and electronic music, his sound is a free-ranging celebration of many diverse musical influences; from Shpongle, Argaman, Globular, Ott, Infected Mushroom, to Ekoplex to Devin Townsend, Buckethead, King Crimson, Tool, Frank Zappa, Schrodinger Kats, and many more.
Deep Dubstep,Psy-Trance
A Hundred Drums
Thunderous low end and pulsating rhythm embody the powerful music of A Hundred Drums.nnStomping the stage in a tangle of hair and a blur of motion, her high-octane live show is the result of years of searching for that perfect primal pulse that connects humans on the dance floor. Gabrielle Watson has been cultivating a sound that moves with the times but also continues the narrative of the scene from the birth of electronic music to its journey across continents, vanguards, and movements. After a decade of crafting her sonic signature in cutting-edge spaces, A Hundred Drums has emerged onto the main stage to bring the sounds of the underground to the masses.nnIn early Summer 2021, A Hundred Drums released a politically potent EP on ZEDS DEAD's Deadbeats label. Enough Is Enough outlines the struggles of being Black in America, set against the backdrop of police violence, systemic racism, and the protest movement still pervasive in a world one year removed from the death of George Floyd. Unlike anything the powerhouse bass label has ever released, a mini-documentary companion piece gave fans an inside look at the making of the record. Through it, Watson tells the story of her own mistreatment at the hands of the police and the genesis of the music and message she so desperately needed to convey. In an industry saturated with vapid party anthems, A Hundred Drums chose to use her platform to deliver substance alongside sound.nnWatson cut her teeth in dark and sweaty basements showcasing icons of the UK dubstep and drum & bass scenes, and has traveled to far flung psytrance festivals to hone her mixing skills. 'AHD' now gets to share lineups with some of the biggest acts in all of electronic music and collaborate with some of the most sought after producers and vocalists across a multitude of genres. She kicked off 2022 as a handpicked support act for REZZ's blockbuster North American tour. She then went on to an unbelievable run through the summer festival circuit including Okeechobee, Lightning in a Bottle, Summer Camp, Electric Forest, Shambhala, and double dates at the Gorge at Beyond Wonderland and Bass Canyon, among so many others. A series of singles, collaborations, and mixes stack up in the pipeline, and a brand new chapter-defining body of work is coming soon. A Hundred Drums has arrived and with her comes the promise of a new generation of bass producers in ascendence.
Deep Dubstep,Melodic Bass
ATYYA
ATYYA [pronounced ah-tie-ah] is the music project of Canadian Producer Tyy Clark. ATYYA'snillustrious sound features dark alluring baselines, mesmerising percussive grooves, and othernworldly atmospheres. Tyy Started producing music in 2006, Launched ATYYA in 2012, andnbegan touring internationally in 2013. As of now, he has more than 100 tracks released, andnmore than 10 million plays. ATYYA's signature sound is recognised globally which has broughtnhim on tour throughout North America, as well as many exotic destinations including Turkey,nIsrael, The Netherlands, New Zealand, Costa Rica and more.nTyy is the founder and CEO of Production Labs, an online brand selling Sample Packs,nCourses, and more. Additionally, he is a professional mixing & Mastering engineer. "ATYYAnMastering" has been active for over 6 years with nearly 1000 songs mastered for his clients tondate.nTyy is also a Trained Keyboardist & Percussionist who studied at the Victoria Conservatory ofnMusic. His technical understanding of music combined with his boundless artistic passion fuelnhis success in the studio. ATYYA's fans have much to look forward to this year with an array ofnnew music releases, live mixes, and tour dates, supporting ATYYA's motive to bring peoplentogether through music.
Dubstep,Freeform Bass
Canabliss
Hailing from Toronto, Samantha Infusini, or Canabliss, is a born creative to her very core. With what can only be referred to as an artistic eye, her background is a colorful palette of different mediums, ranging from photography, music, and immersing herself in the digital world through video games.nnCanabliss has also earned the title of an autodidact, otherwise known as a self-taught musician. Although her deeply rooted love of electronic music originally sparked the Canabliss project, her honed production skills speak loudly for themselves through the music she releases today.nnQuickly garnering attention, her sound resonates throughout all corners of the music community. Much like her passion for all types of artwork, her music is not caged to any one genre and floats primarily between experimental and future bass. Carving out her own space to express and empower, Canabliss has already brought her engaging sets to the live stages and is well on her way to sharing her creative vision to the masses.
Tech House,Bass House
Cloverdale
Cloverdale is all about pushing the boundaries of High Octane Tech House.nThrough his productions and wild live sets, this crazy Canadian has continued to prove why he's been named one of Dancing Astronaut's and Your EDM's Artists to Watch. The producer, DJ and label head, based out of Halifax, Canada is defined bynhis high energy grooves, big basslines, andnpolished productions. These qualities have solidified Cloverdale as a leader in the new wave of modern house music.nWith support from legendary modern tastemakers like John Summit, Vintage Culture, Noizu, J Worra, Dr Fresch, Wax Motif – Cloverdale has crossed boundaries creating a sound fitting both thenbiggest festivals and the most intimate clubs.nNever letting his foot off the gas, allnof Cloverdale's EPs have hit number 1 onnthe Beatport bass house releasesnchart and his first track of 2022 'Talkin' cracked the Beatport overall top 10 at #7 -nA first for his label Vibrancy which released o ver 40 songs in 2021 and has created a community of new and eager producers from around the world.nCloverdale's fast pace and dynamic live shows really highlight where the future of tech house is headed. It's all about good tunes and good times
House
DJ Heather
Widely regarded as one of the premier selectors in the nation, this Brooklyn born Chicagoan demonstrates her skills and sharp deck acumen for the massives throughout Chicago and the world at large with verve and undeniable talent.nIn the past few years the Chicago house community has produced a number of innovative and distinct djs trained in the art of transforming tranquil dance floors into spaces of sheer bedlam and bliss. Derrick Carter, Diz, Mark Farina and Sneak stand at the forefront of the nouveau jock barrage born and bred in the underground gatherings which flourish there. Their committed visions of undiluted musical appreciation, interactive communication, improvisation and basic integrity has brought greater attention to all the city's great djs including the genre busting DJ Heather. Widely regarded as one of the premier selectors in the nation, this Brooklyn born Chicagoan demonstrates her skills and sharp deck acumen for the massives throughout Chicago and the world at large with verve and undeniable talent.nnAt the urging of a friend, after hearing an unmixed compilation tape of her's, Heather started out at the Artful Dodger. A neighborhood pub with a cramped moist dance area situated in the rear. Being such a music lover djaying was a natural progression. I would ask some friends to come by. It was my chance to share my favorite records and have a few drinks I was not really mixing but learning how to play records, programming 101. I was responsible for five hours of music every Saturday night. Eventually I got into the technical aspect of djaying, watching other djs play and learning by example. Finally I was able to get turntables and began practicing six hours a day if I was able. The first time I mixed two records it was like discovering a new secret language At that stage it was truly a hobby, something I did on weekends. I always think of the dj thing as the happy accident. Maybe because I came into it at a stage when it wasn't considered a superstar thing to do. I was the only dj in a circle of photographers, actors, designers and so on. At that time she was also working for local record labels and garnering experience about the industry. One gig lead to another and the hobby soon manifested itself into a full time pursuit. For five years she earned her chops by playing an urgent mix of hip hop, house, jazz, soul, RnB, disco classics, rare groove and all manner of off-center beats relevant to the stew she was brewing. At the Dodger she fully developed her versatility and philosophy as an entertainer.nn During her fourth year at the Dodger, she began what would be a three year residency at Red Dog. A Wednesday night gig dedicated to downtempo beats, hip hop, rare groove and disco. At Red Dog I was able to fully develop as a dj and hone my skills. At that same time she began a short but invaluable stint at world famous Gramaphone Records. Many of Chicago's well known djs have made a stop there; Sneak, Mark Farina, Derrick Carter, Terry Mullan, Gemini, Colette and Miles Maeda to name a few. That place was my resource center. I was hired to be the hip hop buyer. I would also use their phone lines, fax machines, FedEx and ups accounts to the fullest extent. I used the store to make contacts, ship demos/press kits and sell my own mixed material. Three years later, once bookings got in the way of covering shifts, I had to say good bye. I felt like I had graduated Gramaphone Tech. It was such an invaluable experience. Primarily known in the Chicago dance community as a hip hop dj she began a shift in the material she played. It was never a conscious effort to play one genre more than another. I've always been interested in all forms of music. The demand for me to play house seemed to increase after each gig. Over time one just gave way to another. Gone but not forgotten
Psytek,Melodic House
Eartha Harris
Breaking the mould and challenging the status quo have become some of the definingntraits of Eartha Harris's extensive electronic music career. Known well for her downtempondub project Living Light, she has been a multi-faceted presence in the American electronicnmusic scene for over two decades, spanning genres and subcultures and touringnextensively as both a solo and live band artist.nDrawing influence from deep tech, progressive trance, and psychedelic techno, her self-ntitled project, Eartha Harris, deviates from her chilled-out roots in an exploration of thendance floor styles that have come to define the worldwide underground electronica scene.nBlending bold original sounds with classic uptempo genres, Harris delves into her love ofnglobal DJ culture to create a sonically unique and evolving musical persona that in shortnorder has garnered attention from labels and audiences around the world
Funk,Dubstep
Father Funk
Fusing elements of Funk, Hip Hop and Disco with floor shaking electronic beats, Father Funk's unique, genre bending, party rocking style has gained him a cult following worldwide. Always delivered with a cheeky grin and a thunderous onstage energy, his eclectic sets have torn the roof off nightclubs and festival stages across the globe.nnHis infamous remixes of timeless classics and dusty funk gems are instantly recognisable, and staples in the sets of countless DJs worldwide, including some of the biggest names in the industry – even getting a mention on Channel 4 in the UK.nnHe has gone on to establish his own very successful club night and fully fledged festival stage "Father Funk's Church of Love", showcasing the very best in funky bass music and bringing together a dedicated congregation of party people under one roof – an undeniably good recipe for good vibes and positive energy.nnPeople of the Forest, please give a warm welcome to…nFather Funk!
EDM,Glitch,Dubstep
Kermode
The musical vision of Vancouver-based electronic producer Jeanot Mey.nKermode continues to push bass music into new worlds with his forward-thinking sound, inspired by the beauty of the natural world and thenmysteries of life. His most recent album, "Intertwine," showcases this, fusingnseveral electronic music genres in a colourful and inspiring sonic journeynfrom front to back. Kermode is music for the mind, body, and spirit.
Psy-Dub,Melodic Bass
Living Light
Breaking the mould and challenging the status quo have become some of the defining traits of Eartha Harris's extensive electronic music career. Known for her production work as Living Lightnas well for her self-titled DJ projectnEartha Harris, she has been a multi-nfaceted presence in the American electronic music scene for over two decades, spanningngenres and subcultures and touring extensively as both a solo artist and a live band keyboardist. Incorporating elements of psychedelic dub, global bass, downtempo, and mid tempo electronica, her styling has connected with audiences across the musical spectrum while showcasing her tenacity for experimentation amidst the endlessly changing seasons of global electronic music.nHarris had an early start to her professional music career while producing and touring withnvarious electronic acts as a college teen. This was followed by years of solo productionnunder the name Project Sphere until she joined the live electronic band Psylab as theirnlead keyboardist in the mid 2000s. She eventually returned to self-production in 2013 withnher new downtempo dub project, Living Light, which quickly sparked international interestnand lead her into the colorful landscapes of the global festival community.nWith appearances on some of the world's most esteemed psychedelic labels, includingnDesert Tax, Merkaba Music, Sofa Beats, and Liquid Sound Design, Harris continues tonevolve the Living Light sound while also exploring new modalities in her uptempo sidenproject,nEartha Harris.nDrawing influence from deep house, progressive trance, and dubntechno, yet pushing their boundaries in a quest for new, original styles, Harris reveals annew side of herself as a lover of dance music and global DJ culture in this project while stillnmaintaining the Living Light as a separate, but very much still active and influential, sound.nTogether, Living Light and Eartha Harris coalesce to create a sonically unique and evolvingnmusical force that continues to garner attention from both domestic and internationalnmusical audiences. Having graced the stages of events such as Envision Festival (CostanRica), Cosmic Convergence (Guatemala), Tribal Gathering (Panama), Psy-Fi (Netherlands),nEclipse Festival (Canada), Sonic Bloom (CO), Oregon Eclipse (OR), Burning Man (NV), andnArise (CO), and countless club stages across the United States, Harris has developed ansound that transcends any singular locale and which offers listeners a truly globalnexperience regardless of the ground on which they stand
Bass House
Nostalgix
Nostalgix ascent through the electronic dance music scene has been nothingnshort of a dream. Her refreshing sounds, positive energy, and electrifyingnperformances have garnered the attention of both fans and industryntastemakers alike. Her releases on Night Bass, UKF, Confession, ThrivenMusic, House Call Records, DND Recs, Deadbeats, and Insomniac Recsnhave jetset Nostalgix around to some of the biggest stages at EDC, HARDnSummer, Beyond Wonderland, Spring Awakening and more.nAs a proud woman in the music industry, Nostalgix exudes boss energyneverywhere she goes. This modern-day 90's "it-girl" is on a mission to createna positive and a loving environment within the dance music scene.
EDM,Bass House
PINEO & LOEB
Uplifting, Funky, High-Energy & Good Vibes are just a few words that describe Canadian electronic Producer/DJ duo, PINEO & LOEB. They blur genre boundaries uniting electronic, dance, hip-hop & rock fans alike. nWith multiple international tours, collaborations with Grammy Nominees and support from BBC Radio 1 (UK) & George FM (NZ), PINEO & LOEB hit a balance of pure party fun and artistic ambition. In-demand for providing official remixes to major labels and independent artists. Grouplove (Atlantic), Olivia O'Brien (Island) and Canadian pop star, Rêve (Universal) are amongst some of the latest artists to receive the PINEO & LOEB flare.
Freeform Bass
Mr Jennings
[mis-ter jen-ingz]nnA sophisticated technique for the delivery of squidges, squooshes, bleeps, blops, and other peculiar sounds. Best administered through a wall of subwoofers at an assembly of gyrating humanoid creatures. Sounds like: "a psychedelic after-school Satan Club for Furiosas and Lost Boys See also: "going to a fancy southern banquet to drink maltn liquor out of plastic gasoline jugs" nnBass music, but not just a wall of sound! Think dirty bass, 808s, and thick analog synths but with a big ole helping of certified booty boucnin' grooves. The dancefloor is calling …
Psytek,Melodic Techno
Ben Rama
Ben Rama is the founder and music director of internationally renowned psytechno label Techgnosis Records. Since 2010 he has been performing his distinct brand of hypnotic and psychedelic techno for enthusiastic club and festival dance floors, and has been releasing music on the scene's top labels since 2014. Armed with a massive crate of fresh and unreleased label tunes, Ben Rama's captivating hybrid set blurs the line between DJ set and live performance, and always gives the dance floor a truly mesmerizing experience!
Livetonica,EDM,Indie Electronic
Rich Aucoin
A multi-sensory spectacle of a show "Part Daft Punk-inflected Dan Deacon, part DIY-driven Flaming Lips as filtered through Girl Talk" (Austin Chronicle). A band of synths/bass/drums playing in sync to everything from old films to viral videos. An interactive euphoric show underneath a large multi-coloured parachute from kindergarten and a sea of confetti.
Freeform Bass
Sol Good
Sol Good delivers a unique brand of experimental bass music – an exotic blend of organic and synthetic textures, powerfully deep frequencies, and cavernous atmospheres that are occasionally unsettling, consistently satisfying, and always thought provoking, while maintaining the delicate balance of novelty and familiarity, and of tension and release.
 Filled with cohesive thematic elements from beginning to end, Sol aims to take every listener on a journey through the darker side of psychedelic bass music.
Deep House,Tech House
Monkey Twerk
A happy-sexy-dirty blend of Electronic Party Music. Adriana & Frank, originally from Colombia, legally from Canada, and happily in Amsterdam.nn​Influenced by Latin percussion, Canadian basslines, and European grooves, their sets are a combination of different types of house music catered perfectly for each occasion, and are loaded with dancing vibes to make different kinds of crowds shake their bodies like there's no tomorrow.nn​Their experience and music taste have taken them to play music festivals in Canada, UK and Costa Rica, boat parties in Amsterdam, Croatia and Dubai, and private parties all around the world.
Deep House,Bass House
Naturalist
Naturalist is made up of two music lovin' brothers, Sam Moffat and Caleb Brown from Fernie BC. nnThey are known for bringing good vibes! Their fun and energetic stage presence will make you want to dance just as much as their music does. They each bring a unique style to the turntables and their live sets are made up of various styles of feel good house and disco bangers that come together to create a sound they call 'Space Disco.'nn2019 was their breakthrough year, after winning the Kootenay Music Awards 'Artist Of The Year' and also performing their debut set at The Living Room stage at Shambhala which is now their staple stage.nnBring on the music!
swa swally & Brave
Their music links together aboriginal rhythms with modern themes, so that a trance style piece will make you want to dance and travel.. Much like during a tribal ceremony aboriginal people will gather around a fire not only to be entranced but also to dance. SWA SWALLY & BRAVE here retrieves long forgotten sounds and music, some of them totally unknown, then recasts and reframes them so that they become more easily accessible to our modern ears.